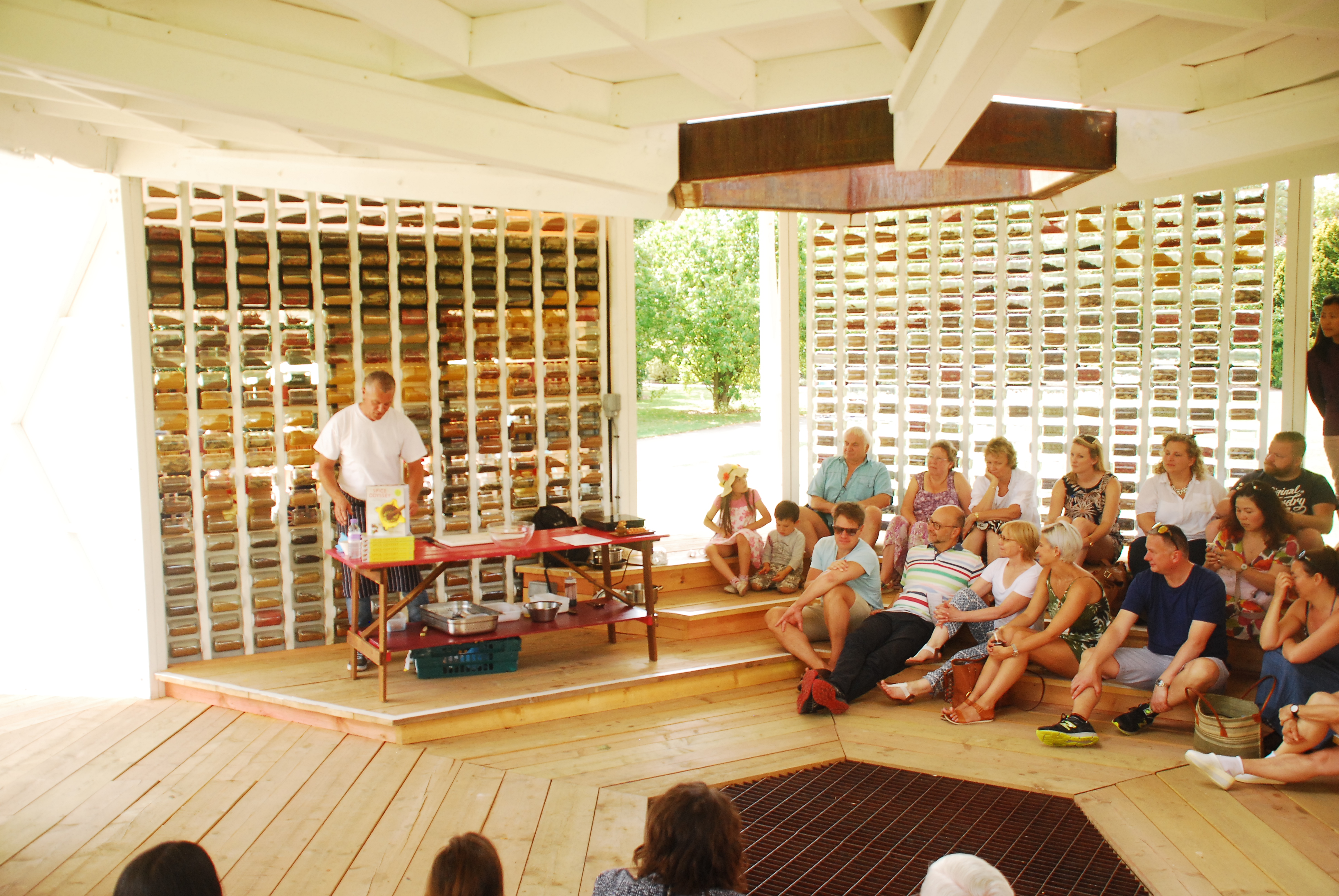 Spices are put in the spotlight this summer at Kew, with the Full of Spice festival running from May through to September.
You can trade ideas, stories, recipes and remedies at The Spice Exchange, an extraordinary timber pavilion interlaced with thousands of spice jars designed and produced by Wayward. Beneath its unique cantilevered roof, The Spice Exchange houses a kiosk run by The East India Company an exhibition space, an open-air theatre and a participatory story exchange.
Every second and fourth Saturday of June through to the end of August, Wayward have curated a programme of Spicy Saturdays that follow the Ancient Spice Trade Route from East to West.  Each event will visit a different world region, featuring speakers, storytellers, performances, food demonstrations and workshops that blend history, mythology, travel and cooking.
The event timetable is below:
Saturday 13 June — Japan, China and the Spice Islands
12.00 Dr. Vivienne Lo talks about 2000 years of the Sichuan chilli pepper
13.30 Cheng Yu will delight us with a performance of Chinese music
16.15 James Wong, bestselling author and TV personality, joins us in the Spice Exchange — don't miss his lively talk
Saturday 27 June — India
12.00 Ratna Dey Cordukes introduces us to the healing properties of Ayuverdic Cooking
13.30 Jyotsna Srikanth's Carnatic music will transport you to Southern India
15.00 Angela Malik will demonstrate how she uses spices in Indian cuisine
16.30 Manasamitra brings us the story of a peppercorn through North Indian dance
Saturday 11 July — Middle East
12.00 Little Soap Company shows us how to use out-of-date spices in soap making
13.30 Merit Ariane Stephanos will take us on a musical journey of the Middle East
15.00 Yasmin Khan shares stories of her culinary adventures through Iran
16.15 Jane Pettigrew, tea specialist, joins us for a talk about spiced teas
17.15 Xanthe Gresham brings us ancient myths and stories from Arabia
Saturday 25 July — Africa
12.00 Cordwainer's Garden share their tips on dying fabric with spices to create African designs
13.30 Coco Mbassi, the award-winning Cameroonian singer, brings us a combination of African, jazz, gospel and soul music
15.00 Zoe's Ghana Kitchen show us all about Ghanaian cuisine and African spice mixes
16.00 The East India Company's resident Tea Master joins us for illuminating session on the relationship between tea and the spice world.
17.00 Akhaya Cookery School. The UK's first cookery school dedicated to African cuisine run an exciting spice workshop will look at four spice blends from various regions of Africa, exploring the history and culture of each of these fragrant, flavoursome blends. Participants will learn how to work with dry spices and how to make one fresh marinade.
8 August – Mediterranean and Europe
12.00 Sally Francis enlightens us about Saffron, the most precious of spices
13.30 Delicatessen transport us through music and song to the Balkan and Mediterranean regions
15.00 Paul Merrett gives us a melting pot of cultural influences and recipes that really inspire
16.30 Blanch & Shock joins us for an innovative and interactive talk on the future of British spices
17.30 The East India Company's resident Tea Master joins us for illuminating session on the relationship between tea and the spice world
22 August — Americas
12.00 Emma Grazette joins us to talk all things foodie, spicy and Caribbean
13.30 Los Musicos bring us a lunchtime of Latin jazz from South American
15.00 Morales treats us to a mouth-watering introduction to Peruvian flavours
16.30 Jan Blake transports us to the heart of the Americas with her powerful, bold and dynamic storytelling