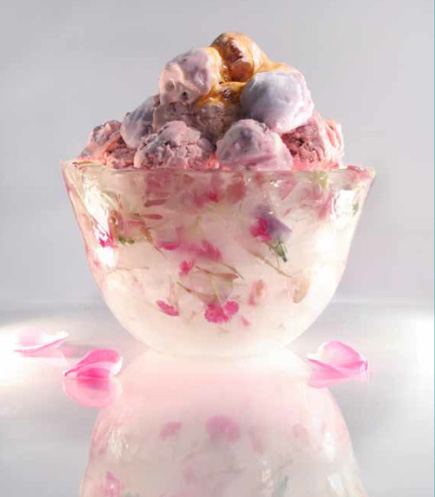 Check out Bompas & Parr's newest cookbook, Tutti Frutti, to get Wayward's recipe for our Fruit and Flower Ice Cream Sundae (photographed here). Mmmm!
Tutti Frutti with Bompas & Parr and Friends explores the gustatory implications of fruit salad.This sensual book takes in architectural pineapples, the spaces of banana control, how blue became the international colour for raspberries and a luxurious host of fruity recipes. For this fruit epic Bompas & Parr has worked with a merry crew of the world's top photographers, chefs, artists, writers and illustrators. This includes the illustrious Sam Jacob of FAT, Elena Arzak, Alexis Gauthier, Martin Parr, Justin Piers Gellatly of St John, Jennifer Rubell,Yinka Shonibare MBE, Joana Vasconcelos, Sissel Tolaas, Florence Knight, Noah Kalina, Inventory Studio, Wayward and many more…
A limited first edition of 2500 has been published with a choice of four fruity covers and feature a peelable fruit sticker title. Pick your fruit, and open the publication to reveal the brilliant fruit flesh end papers within.