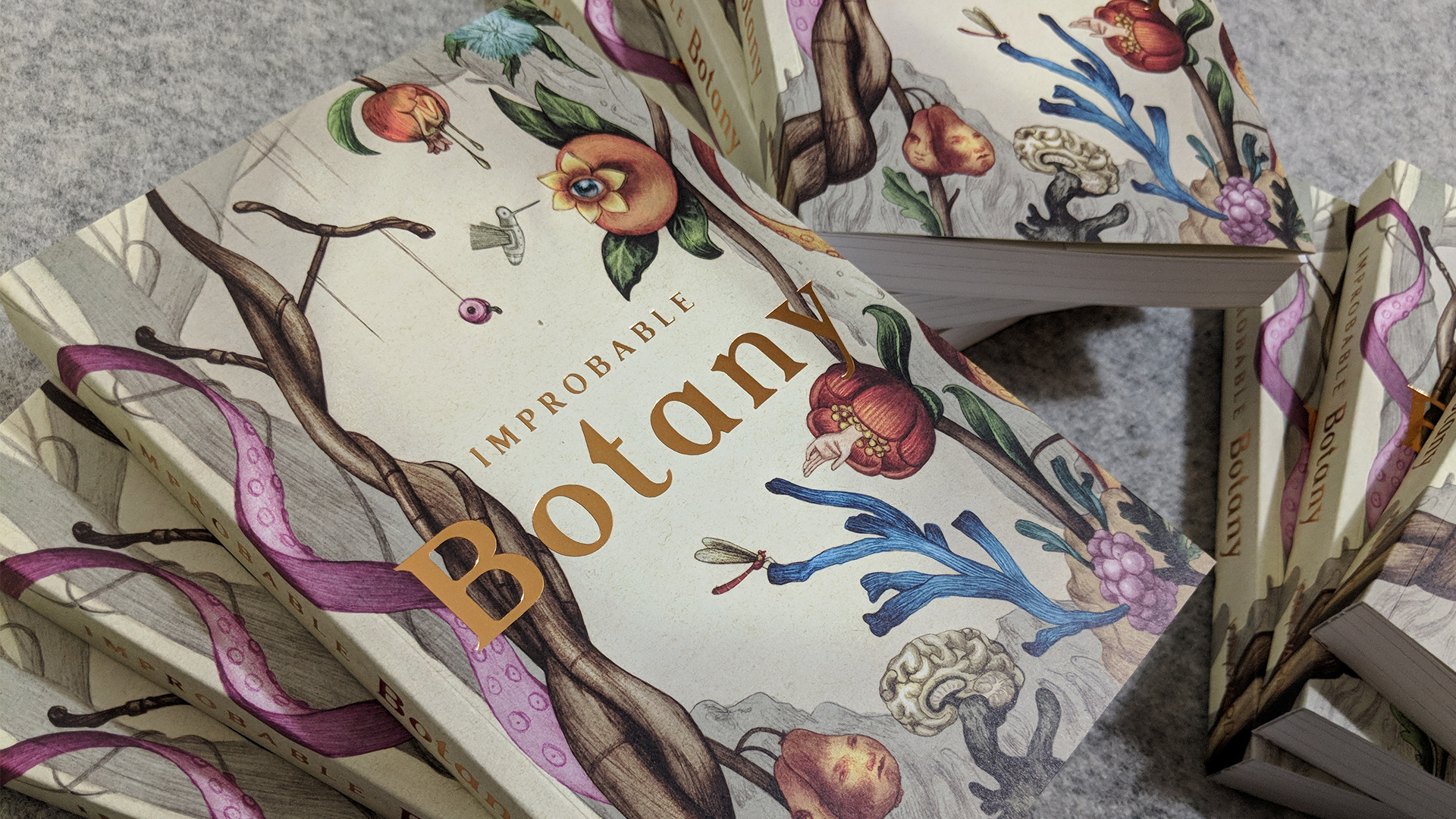 We have a limited number of the Improbable Botany print edition for sale. Once these few remaining copies are gone, the physical edition of the book will be gone forever!
Improbable Botany is a brand-new science fiction anthology about alien plant conquests, fantastical ecosystems, benevolent dictatorships and techno-utopias. Part survival handbook, part page-turner, Improbable Botany is a fond companion piece to many of Wayward's past collaborations and features newly commissioned short stories by eleven multi-award winning science fiction authors: Ken MacLeod, Cherith Baldry, Eric Brown, Rachel Armstrong, Simon Morden, Adam Roberts, James Kennedy, Stephen Palmer, Justina Robson, Tricia Sullivan and Lisa Tuttle.
The book has been edited by Gary Dalkin, a former judge of the Arthur C. Clarke Award and former editor of Vector: The Critical Journal of the British Science Fiction Association.
Improbable Botany features incredibly rich and evocative jacket artwork, alongside six full-colour illustrations (which are being offered as A2 art prints to backers across multiple reward tiers), by Jonathan Burton – whose outstanding body of work has been featured by The Folio Society, Penguin Books, BAFTA, HarperCollins, Random House and The New York Times.
This is the book plants don't want you to read.
To purchase a single copy, please select a shipping option and click the PayPal "Buy Now" button below. For multiple copies of the book, please email us.
Shipping Rates (included in the above prices)
Shipping to the UK: £4
Shipping to the EU: £8
Shipping to North America and Canada: £10
Shipping to the Rest of the World: £14

Improbable Botany is also available in a digital edition available from all major ebook retailers, including here.